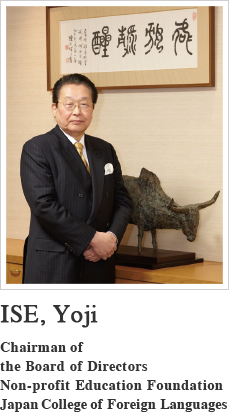 Japan College of Foreign Languages celebrates its 45th anniversary this year (2015). When founded, it was the sole college in Japan that specialized in training professional interpreter-tourist guides. It was five years before the official establishment of the national system of vocational college. Under the new system, recognised college started to offer specialist training at the level of higher education. JCFL has expanded the career fields in its education program to meet the demands of the time and modern society. In the process, it has achieved excellent educational results and established itself as a representative college in the field of foreign languages and hospitality education.
At the moment JCFL is reinforcing its relationships with Asian countries as well as Western countries. This is because we believe that the cultural tradition Asian countries have in common are key elements that help raise and guarantee the quality of higher education, which we need to have in order to meet the requirements of the knowledge-based society of the global world. In other words, we believe that Asian wisdom of putting values before economic development makes it possible to build a sustainable society through education.
JCFL is currently in the process of drafting curricula that are compatible with those of overseas institutions. In this work, we are trying to build up innovative education which is based on personality development rooted in our culture and tradition of "being considerate of others and strict with ourselves." Although this is not an easy process, we will never cease to work on our quest of "education never seen before".
With our position and attitude highly esteemed by those concerned with education in Asian countries, we are delighted with the progress of cooperation and the development of actual collaboration with many universities. We take pride in our mission and responsibility for making this movement gather strength.
The world is coming to the age of Asia. Education is at the forefront of this era. I am ready and determined to open my heart and speak my mind with more people concerned with education than before in order to discuss and create new educational possibilities. I will work to diversify and deepen education through research and development of collaborative programs with existing partners. I also hope to welcome many new partners in the future.