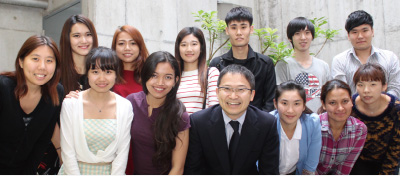 From basics to N1
in 2 years
JCFL Japanese Course aims at real-life communication competence.
This gives students not only Japanese language skills but also deepens their understanding of Japanese culture and society.
Special features of Lessons
Competence in Japanese communication is assured …here's why
Competence in Japanese communication is assured …here's whyComprehensive skills in reading, writing, listening and speaking Grammar, Chinese characters, conversation, presentation skills --- let's improve all of these.
Thorough preparation for Japanese Language Proficiency Test and Examination for Japanese University Admission.
You can set the pace for your studies There are two elementary courses to choose from: a half year –course and one year-course
For people who want to enter prestigious universities,
graduate schools and JCFL upper- level courses

University and Graduate school Preparation course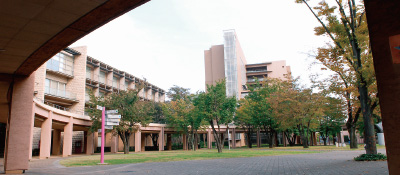 Aiming at admission to universities and graduate schools by obtaining a high level of Japanese and English competence
Special features of the Course
Thorough study to get high scores in Japanese Language Proficiency Test and Examination for Japanese University Admission
Learn English at your pace, from elementary to advanced
Short essay writing class to improve both knowledge and writing skills
One-to-one counselling by homeroom teacher
This course aims at, among others
The University of Tokyo, Tokyo University of Foreign Studies, Hitotsubashi University, University of Tsukuba, Chiba University, Saitama University, Yokohama National University, Tokyo Metropolitan University, Tokyo Gakugei University, Waseda University, Keio University, Sophia University, Meiji University, Hosei University, Rikkyo University, Chuo University, Aoyama Gakuin University etc.
Course for Admission to JCFL Higher Courses and
Higher Level Schools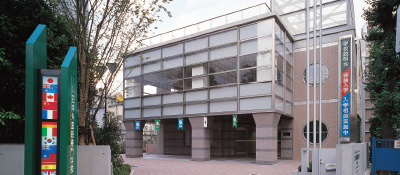 Aims at admission to JCFL 2 - or 3- year courses
Special features of the Course
Improve Japanese Competence ~ obtain N1 in JLPT
Good preparation for higher courses, including observing JCFL classes and attending guidance sessions
Consolidate English communication skills ~ instruction at various levels
Homeroom teachers help form your career plan
This course aims at, among others
Tourism…

International Tourism Course/International Hotel Course/ Cabin Attendant Airline Course/ International Bridal Course

Language…

General English Course/ English Interpretation and Translation Course

International Business Area…

Advanced English Communication Course/ International Business Course/ International Relations Course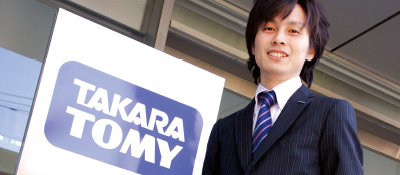 Aiming at creating
business ties between
Vietnam and Japan
Learn Japanese culture, Japanese business customs, English and gain the latest know-how of international business as well as improve your competence in Japanese communication.
Special features of the Course
Improve your ability in English
Small-sized class arranged by level
Improve your ability in Japanese On top of obtaining N1, students aim at the advanced level of BJT Business Japanese Test
Improve your Business Skills
Students study economics, business manners, business writing and business English.
Improve your Job-Hunting Skills
The homeroom teacher and Careers Center work together to support individual students through Company Seminars, Special Employment Seminars and individual counselling.
Learn with Japanese Students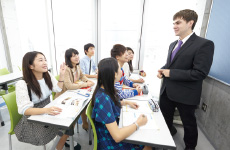 International students take TOEIC Drill and English Communication Skills together with Japanese students. They have a good opportunity to interact with them, widen their circle of friends and deepen their understanding of Japanese society and Japanese ways of thinking.